During our seven month adventure in Southeast Asia, we spent four months living in Chiang Mai – Thailand's second largest city located in the mountainous north. Lacking the much loved tropical beaches, and famous tourist hot spots that Thailand is known for, we were often asked why we chose to spend so much time in this lesser known city. With plenty of research and discussion behind our decision, here are the nine reasons why we decided to spend four months in Chiang Mai – and why we'll keep returning.

1. Safety
Safety is always a huge concern for us while travelling as we've both been victims of theft, and travel with our valuable mobile office setup. Even though we take every precaution to make sure that our personal belongings are secure, staying in a safe city really puts our mind at ease. On various occasions we've put ourselves in situations where our valuables could have easily been stolen, and were pleasantly surprised when they weren't.
On one occasion I forgot my iPhone in a restaurant, and had the waitress come running after me to return it before we left on our scooter. On another occasion, Sean forgot his camera in the front compartment of our scooter while we went shopping, and find it exactly where he left it when we returned. It's having the peace of mind, knowing that the people of the city can be trusted, and the way our valuables are respected that truly made us feel super safe in Chiang Mai.
2. Low Cost of Living
From the accommodation to the food, Chiang Mai is an extremely affordable destination. Our  serviced apartment (one bedroom with kitchen and lounge), including unlimited Internet access, two flat screen TVs, a pool, a gym, weekly cleaning, and a 24-hour reception cost US$830 per month. Our scooter rental cost  US$70 per month, with  a tank of petrol (for the scooter) costing less than US$3! And a delicious vegan meal cost less than US$2. We lived extremely comfortably even enjoyed various private tours, regular visits to the cinema, and countless beers on the rooftop of Maya Lifestyle Centre.
3. Fast & Reliable Internet
Coming from South Africa, our expectations of fast and affordable Internet compared to the rest of the world is pretty low. Being used to generally slow and expensive Internet connectivity we were impressed by the fast, efficient, and often free Internet access in Chiang Mai. Whether we were working at a co-working space, our apartment, or a cafe, the Internet was always effective enough to do our work productively.
4. Digital Nomad Hub
One of the main  reasons we chose  Chiang Mai to base ourselves was because we had done a lot of research into digital nomad hubs, and Chiang Mai often came out on top of review lists. Regular meet ups and networking events, makes it is easy to meet other online freelancers, entrepreneurs and travellers. With its large expat and digital nomad community, Chiang Mai was a great place for us as first time location independent travellers.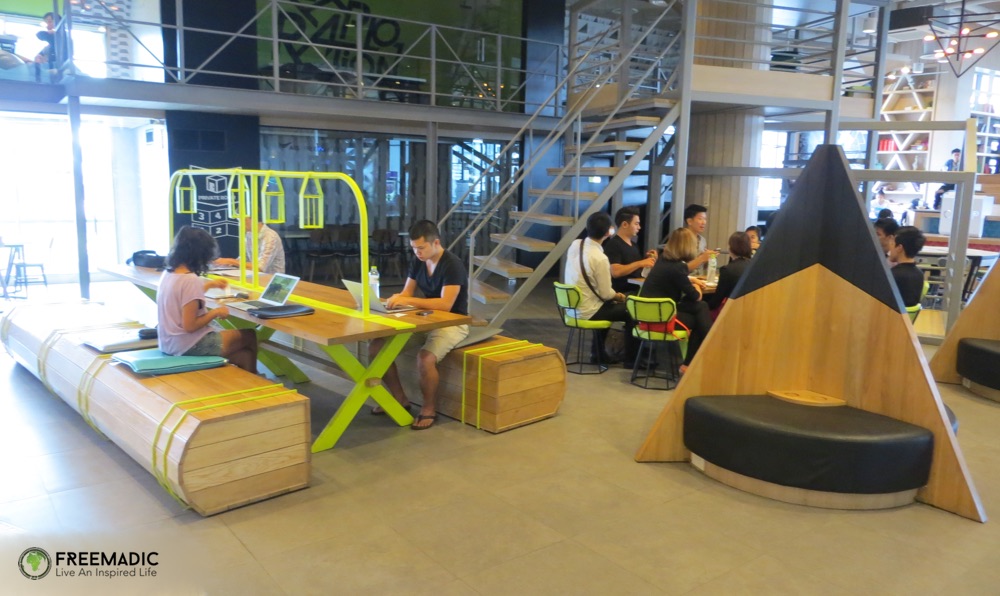 5. Authentic Thai Culture
Many tourists (unfortunately) only make it as far as Bangkok or Phuket for a short holiday only seeing the tourist attractions and never really venturing out to see the real Thailand. In Chiang Mai locals outnumber tourists, which gave us plenty of opportunities to experience the diverse, more authentic Thai culture. From watching monks collect their donated food as the sun comes up, to heading to restaurants where we were the only Westerners, we truly got an authentic Thai experience, and not the water down version that most tourists get.
6. Scooter Culture
In Thailand scooters rule the roads! Scooters are affordable, convenient and the number one transport choice for most locals. Malls have designated scooter lanes and parking areas, cars on the roads will give scooters right of way, and parking is never a problem. We had a permanent scooter rental while in Chiang Mai, which gave us the freedom to explore to our heart's content, which included trips to the Chiang Mai Quarry, Samoeng Loop, and Wat Phra That Doi Suthep.
Before renting a scooter, read our post – The Risks of Renting & Riding Scooters in Thailand.
7. Relaxed & Convenient Environment
As self employed online professionals we prefer to avoid stress whenever possible, and Chiang Mai offers us an amazingly relaxed environment that kept our stress levels low and our productivity levels high. Being less touristy compared to Bangkok, Phuket and Koh Samui, Chiang Mai often felt like a small town with big city conveniences including an international airport, modern malls, co-working spaces, restaurants and great accommodation.
We based ourselves in an area that was no more than a five minute drive from the Old City, numerous shopping malls, co-working spaces, and restaurants, making our lives easy. With a pharmacy, laundromat, 7 Eleven, scooter repair shop and a fresh produce market within walking distance of our apartment, we never needed to travel too far to get anything we needed. In most bigger cities you'd pay no less than US$1000 for a location surrounded by all these extra conveniences. This convenience at such a reasonable price made it an extremely relaxed environment, and comfortable living situation.
8. Vegetarian Food
As vegetarians we often find it difficult to find food that is meat-free, not carb based (pizza or pasta), and delicious. Unlike most cities, Chiang Mai is a huge advocate for vegetarianism, and we were blown away by the quality, taste and variety of vegetarian food and restaurants. From markets that offer a selection of cheap and tasty veggie options, to restaurants like Anchan, Free Bird Cafe, and Imm Aim, we had plenty to choose from.
9. Thai Massages
During our monthly long stay on Koh Samui we found that massage therapies were very popular amongst tourist. We enjoyed a few of them on the island, but found the best and most affordable massages in Chiang Mai. There is nothing better than going for regular massages to destress and relax. Lying on a massage table in a air conditioned bamboo shed, listening to traditional Thai music, with the smell of tiger balm in the air as you get the tension massaged out of your limbs is something we miss every single day.
Let us know if you have any questions about visiting or living in Chiang Mai. We are happy to share more of our experiences and make recommendations.